Abstract
18.5% of adults in the US suffer mental illness. Just under half of all adults will experience mental illness at some point in their life. These compelling statistics have prompted computing researchers and practitioners to work toward developing technologies that can support those with mental illness and promote thriving universally. For example, wearables and sensors can help detect mental states, smartphone apps can be used to expand the reach of interventions, and our understanding of the impacts of everyday technology on our mental health can contribute to a future of technology design for flourishing. This interdisciplinary workshop will provide the opportunity for mental health professionals and technologists to come together to explore how new computing technologies can support mental health and promote psychological flourishing.
Chairs
Invited Panel
Dr. Tom Insel, Verily (Google)
Dr. Eric Horvitz, Managing Director, Microsoft Research
Prof Helen Christensen, Director Black Dog Institute, Australia
Prof Matthew Nock, Professor of Clinical Psychology, Harvard University
Dr. Robert Morris, Co-founder of Koko, Crowdsourcing for Mental Health
See CHI website for more information about the conference
The workshop is described with more detail in:
 RA Calvo, K. Dinakar, R. Picard, P. Maes  "Computing in Mental Health" CHI '16 Extended Abstracts on Human Factors in Computing Systems . ACM, 2016."  [PDF]
Call for Papers
Participants can register by submitting a 1 page description of their work, showing evidence that they work in this area (whatever the disciplinary focus). For those seeking to present their work, we also invite submissions of papers in the CHI notes style, with a maximum of 4 pages. Full details here.
About CHI Workshops
The CHI conference is the world's premiere conference on Human Factors in Computing Systems, presenting a highly selective showcase of the very best advances across the disciplines of computer science, cognitive psychology, design, social science, human factors, artificial intelligence, graphics, visualization, multi-media design and other disciplines.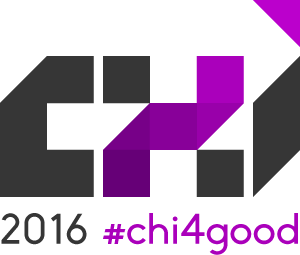 CHI Workshops are a gathering place for attendees with shared interests to meet in the context of a focused and interactive discussion. They are an opportunity to move a field forward and build community. Workshops are intended to foster discussion and exchange. Because focused interaction among participants is important, participants should have informed positions based on prior experience. See our CFP for the 2 types of papers accepted